Slave to Pleasure: The Black Box
| | |
| --- | --- |
| | Size:7.69MB |
Description
Welcome to the clandestine club Original sin, my name is Jesus and I been working here a stripper and prostitute in friendly team sisters. We have every man can bring the majority of its most coveted carnal pleasures in reality, because of how much he can afford depends on how thick his wallet.

Each of our sisters, the girls perform a certain condition that increases your sexual appetite, which is greater in men than in women, although our club meets sexual needs of both sides, bringing huge profits. Effectively, right?

Anyway, that night, as in many others, I have created an incredible spectacular show for our loyal customers, in which I passionately danced with a pole on the main stage. Delight and whistling crowd was on my every movement, the men at my feet literally ate me with hungry eyes. Even though it was an ordinary show, but their passionate words worked on my mind, turning my body into a dangerous erogenous zone. Finally, as soon as the music ended my speech reached its grand finale. The crowd exploded with thunderous applause, and with a kiss thrown into the air, and with a growing wet between my legs, I left the stage.

When leaving through the hidden corridors of our club, I saw Cheryl (another girl from our team of sisters, and my old friend), which is preparing for the next performance in our show. I met her with a chuckle and told her about the situation that awaits her on the stage. "Let's see who will come out better," - she said to me with a sly grin. Then a little chat, we went each his own way. After a minute or two after that, I heard a muffled noise that thundered through the walls of the building, it must show began.

My work was far from finished that night, on the contrary, the real fun was still to come. Today, I had to replace Amy Chan (another colleague of ours) in the black box. The name "black box" has been given a number of small stalls in the back of our club, in which each of the men ready to pay a tidy sum, was standing in the queue length, waiting for the sexual services of our girls. You can not imagine how nice to get paid sex slave late at night.

Anyway, when I went to the black box, the door opened and out came a guy with shorts in his hand and a pretty face. A few minutes later he came out and Amy, she had remnants of sperm on her last customer on her smiling lips, so I went up to her and licked her mouth in front of a large crowd of customers. Soon I saw them stand up members in the pants quite promising proportions. Then they started to literally throw us obscene words.

After we finished our deep kisses, Amy smiled and walked toward the locker room, leaving me at the mercy of a horde of overly excited males. Soon, they pounced on me, their hands caressing and roughly clutched my half-naked body, I was a little let them enjoy for a few seconds, pushing them with a playful look. "After use the product without paying for it, this is evidence of bad manners, you know?" - I told them.

After the release of their strong hands, I wore a metal collar and knelt before the first client. "What can I do for you, Master?" - I told him. The answer came quickly out of cowards, and while I caressed his big cock, I chuckled and had only one thought in my head: "In the end you just our sexual slaves"...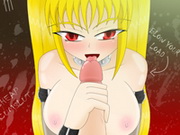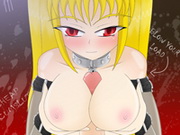 Additional Information
OS Required: Android 4.1+
Other: Adobe AIR required (to download)
Developer: FATELOGIC
Release date: 14.07.2012
Genre: Simulation, Anime, Masturbation, Blow Job, Paizuri, Big Breasts, Hentai, Flash
Languages:

English

Contact us: