Pact with a Witch
| | |
| --- | --- |
| | Size:1.44GB |
Description
Your roommate and best friend tries to rape Neus, the most introverted of the whole design school, who bites him just after you save her. You discover that bite was not only for self-defense, it also contains a bewitching that turns your roommate step by step into a girl. Who everyday that passes, she seem forgetting more his past and becoming more attracted to you. To save your friend, you make a pact with Neus to have 4 dates, and the last night she promises to return his original male form to your buddy. Although it seems that she keeps her word, there are sinister things she had not told you yet.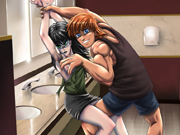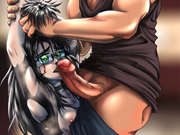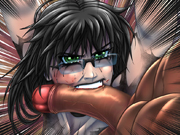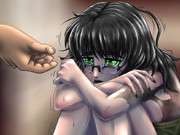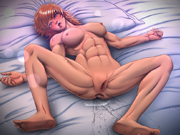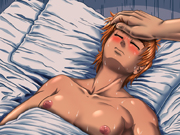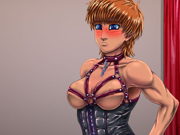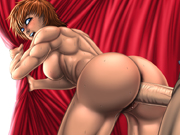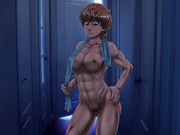 Additional Information
OS Required: Android 5.0+
Developer: jonnymelabo
Release date: 26.10.2021
Version: 00.16.08
Genre: Adventure, Visual Novel, Indie, Casual, Dating Sim, Hentai, Horror, Gothic, Anal, Mystery, Romance, Sex, Big Dick, Bondage, Voyeurism, Paizuri, Blow Job, Orgy, BDSM, Masturbation, Lesbian, Rape, Cunnilingus, Fisting, Jerk Off, Transformation, Paranormal, RenPy
Languages:

English

Spanish
Change-logs
v00.16.08:
- After 5 years of development, I finally found out why animations were lagging and moving weird... I hope it's fixed and doesn't give "Out of memory" problems. Animations now should look as I had visioned all this time!
- Added + illustrations after disobeying Neus.
- Added red eyes + sounds + music for that part.
- Started illustrating her "sodomy" to you.
- Added SKIP and HISTORY quickbuttons right to the text box.

- Improved Art (+ more fluid animations):
~ Mostly of the beach scenes with Didac are finished.
~ Strangle hands

- Background Art:
~ Doorbell Txell
~ Police Station
~ Tibidabo Park Backgrounds

- Bugs fixed, Some english Grammar.


PWAW v00.16.06 (ANDROID available):
- Endings of the game (all them translated in english / partially illustrated):
~ Neus Alone.
~ Didac alone.
~ Neus + Didac.
~ At home with Didac being a man (No gay relationship, at least not in this ending).
~ At home alone.


v00.16.04_b Premium:
- The bug that didn't allow play the Neus "raping" you, is now available.


v00.16.04 Premium:
- First ending of the game (Neus alone) available and translated. Partially illustrated.
- The best way to achieve this ending and no the ending Neus+Didac (which is still not translated) is using the "C" button (or going to options and go to cheat options) and reduce the points of Didac in order to not have enough points with him and having the ending with Neus alone.
- Ending of naughty shot with Dídac and Meritxell in the enidng of the 5th night illustrated with sketches - (Oral, Front and Back positions).
- Hotel rooms Cemetery and hallway improved.

End of the game (Neus route) is written (draft mode and without many choices yet) only in SPANISH. I hope to have it finished and translated for the next month.
There's the route with Neus alone, Neus with Didac, Didac alone, Didac Male at home, Alone at home, ... (Harem route is not done since the Blonde route is still poorly developed yet).
Park scene (with Didac) is partially painted.


v00.16.00 Premium

PWAW changelog:
- Improved art in the Beach scene with Didac.
- Buttons fixed (including the smartphone button to acces the second date with the blonde, and the candles at the cemetery).

Secret GH changelog:
- 8 Endings available. (So far the game is only Text without art nor music).
- The game happens few years before the events of PACT WITH A WITCH.

Contact us: