Amity Park
| | |
| --- | --- |
| | Size:908MB |
Description
Amity Park is a parody game based on the animated television series Danny Phantom.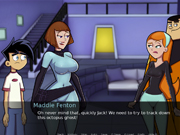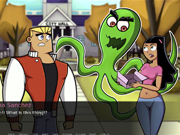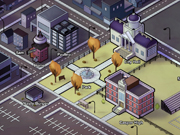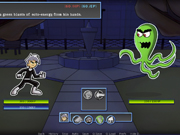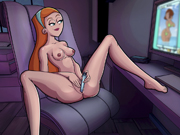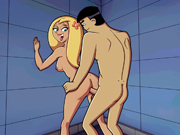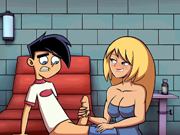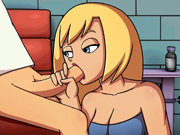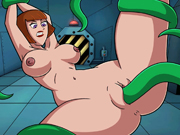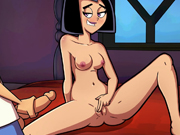 Additional Information
OS Required: Android 5.0+
Developer: GZone
Release date: 26.07.2021
Version: Redux-Bugfix
Genre: Adventure, Visual Novel, Dating Sim, Cartoons, Parody, Milf, Incest, Voyeurism, POV, Mild BDSM, Spanking, Monster Girl, Masturbation, Sex, Glory Hole, Jerk Off, Ghost Girl, Blow Job, Trap, Public Sex, Tentacle, Anal, Exhibitionism, RenPy
Languages:

English
Change-logs
v.Redux-Bugfix

#General
- Battle Simulator logic allowing it to be used past it's limit. (When Episode 8 is released your level will be reset to 24.)
- Disabled debug logging. (Delete 'ap_log.txt' in your game folder manually.)
- Sound file with wrong extension in script corrected. (Hidden Fear)
- Episode 8 location logic labels added. (Prevents errors upon completing Episode 7)
- Grammatical errors corrected.

#Spookchat
- Fixed messaging Paulina a thought during spookchat conversation.
- Fixed Tucker's spookchat portrait.
- Removed all '[' ']' brackets from spookchat messages.
- Split long spookchat message from Tucker into two.

#Portraiting
- Fixed Portraiting during Vlad's visit in the kitchen.
- Fixed 'In Hot Water' portrait overlap.
- Fixed 'Intangible' side portrait being offscreen.
- Fixed Sam/Danny sprite overlap in Episode 3.
- Fixed missing portraits during Maddie's Yoga extended scene.

#Scene Replay
- Sam's 'Helping Hand' scene replay fixed.
- Kate's second scene replay fixed to end at the right spot.
- Desiree's last scene variant unlocking logic fixed. (Requires seeing it once more to fully unlock it)

#Quest Logic
- Twinkle Twinkle Little Star can now be completed after episode 4.
- Correct conditions for inviting Paulina on a date before dance.
- Correct conditions for Paulina's first date for dance trigger event.
- Correct conditions for Paulina's first date for dance blocking events.
- Correct conditions for Paulina's meeting her at the dance.
- Correct conditions for meeting Sam at her house before dance.
- Correct quest objective variations based upon progress and date choice.
- Correct conditions to skip to day of dance.
- Correct location availability during dance.
- Fixed Sunday repeating on Desiree's Orgone Quest in Episode 7.
- Episode 7 Star Orgone choice now correctly locked based upon dance choice, may revisit when alternate dialog can be created.
- 'Staying Home' event with Maddie now gives Orgone and availability moved to after Ember's defeat.

#UI
- Quest log next objective overflow fixed.
- Removed old quest popups.
- Fixed Desiree's menu staying on screen when going on dates.
- Quest Objective Notifications stuck on screen fixed.
- Quest Objective Notifications time on screen reduced to 4 seconds.
- Quest Objective Notifications added button to dismiss immediately.
- Maddie Yoga Scene properly hidden.
- Fixed quick menu permanent disappearance upon entering battle.
- "Unknown Location" for a few new locations.
- Spookchat updated.

Contact us: