Bioslut Big Titties: Missionary Fuck
| | |
| --- | --- |
| | Size:14.4MB |
Description
Bioslut: Big Titties, featuring Elizabeth in her basic outfit was made available on July 11th. According to Lord Aardvark, it took around three days to put this animation together from individual stand-alone animations he had created. The rather short development time is reflected in the rather limited nature of this animation, as it consists of only five animations loops. While there is not very much to this installment, with a bit of harvested audio from existing pornography on top of the decent animation it all adds up to a rather well-made clip.

The animation has the following features.

- In the top-right corner, there are 4 buttons. From left to right, they are: toggle captions, toggle sound effects, toggle voice, toggle music

- Along the right-hand side, there are 5 buttons. Each button is a slightly different scene.

- At the bottom of the screen is the credits button. Note that the game plays in the background while the credits are up.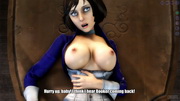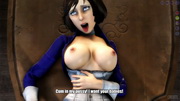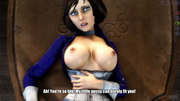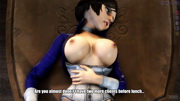 Additional Information
OS Required: Android 4.1+
Other: Adobe AIR required (to download)
Developer: LordAardvark
Release date: 11.07.2015
Version: 1.0
Genre: Simulation, Big Tits, Parody, Sex, Sex For Money, Hentai, Erotic
Languages:

English

Contact us: