Nidalee: Queen of the Jungle
| | |
| --- | --- |
| | Size:72.9MB |
Description
In the dangerous lands south of the Great Reach are the mysterious jungles of Kumungu. In their dense thickets hide unseen treasures, for which many are willing to risk their lives and health, just to get them. But no matter how many treasure hunters were sent to that mysterious place no one came back, so those wishing to go there every year became less and less. Our hero decided to join the next expedition for the treasures of the jungle Kumungu and went with his new comrades there. He did not know that soon he would have to fight with all his strength for his life. On the first day of stay in the jungle all went well - comrades joked and had fun, but at the dawn of the second day of the slaughter began. Our hero woke up in his tent from terrible human shouts, and when he looked out of it, he was shocked by what he saw, wild animals and plants tore and devoured his companions. Overcome by fear, struggling for his life, he struggled to escape from the jungle. But as soon as he left the place of massacre, he immediately received a blow to the head and lost consciousness. When he awoke he saw a beautiful girl named Nidalee, who told him that he and his friends have defiled the sacred grove, and for this must die. But as his comrades were already dead, and he was the only survivor, she decided to keep him alive by giving mission. The essence of the mission was that he had to tell everyone that anyone who entered the jungle would be killed. Finally, before he let go, Nidalee decided to have sex with him, because there are no men of the human race in the jungle, and besides, she simply loves to play various games with her prey.

In Game:
- 4 sex poses in amazingly realistic quality.
- 1 secret posture sex with the beast Rengar (in the main menu of the game, press a finger into the bottom left corner of the game screen, on the image of a lion).

ATTENTION! To work the game requires 500 MB of RAM! Therefore, if you have a game crashes, it means that your phone is weak and does not have enough RAM. If you see a black screen, then wait for up to 1 minute, it's loading.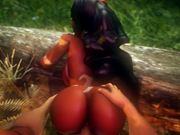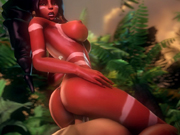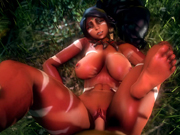 Additional Information
OS Required: Android 4.1+
Other: Adobe AIR required (to download)
Developer: StudioFOW
Release date: 10.11.2015
Genre: Adventure, Visual Novel, Sex, Big Breasts, Big Dick, Monsters, Flash
Languages:

English

Contact us: