Shooting Holes In Stuff The Game
| | |
| --- | --- |
| | Size:589KB |
Description
We present to your attention a simple casual game shooter, in which you will need to shoot a crossbow on moving targets, in order to open the darkened area, as well as to destroy the clothes on the girl. Shoot as accurately as possible to be able to better see the attractive girl Anna in erotic scenes, the scene of masturbation and sex.

In Game:
- 2 game modes: MAIN STAGE - to open the darkened area, OMAKE STAGE - to undress.
- 3 levels in MAIN STAGE mode and 1 level in OMAKE STAGE mode.
- Background itself varies depending on the part of the day: morning (from 5:00 to 9:00 am), the day (9:00 to 17:00), evening (17:00 to 20:00), night (with 20 : 00 to 5:00).

Help:
- In the game you need to shoot on moving targets, in MAIN STAGE mode, you need to shoot at the target when it hits the darkened area, and in OMAKE STAGE mode, when it hits a piece of clothing.
- In order to shoot, you need to press your finger on the crossbow and not letting, move to the desired side (left or right). Then, once you have selected the desired position, you need to release the finger to shoot.
- In MAIN STAGE mode, after you get into 50 targets, you will play an erotic or sexual scene, but you can see only the part that you opened from the blackout.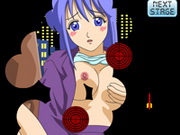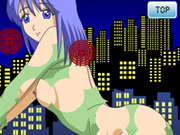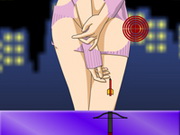 Additional Information
OS Required: Android2.2+
Other: Adobe AIR required (to download)
Developer: fuel-brain
Release date: 08.04.2014
Genre: Action, Shooter, Casual, Anime, Erotic, Strip, Masturbation, Sex, Hentai, Flash
Languages:

Japanese

Contact us: