Touching Club vol 2
| | |
| --- | --- |
| | Size:847KB |
Description
Tembi - sociable, bright, not shy young girl the zodiac sign Lion, which lives taking everything out of life. Her father is American and her mother Japanese. She was born into a happy family in the United States of America in New York City. But unfortunately, as often happens in many families, her parents divorced and she was forced to return to Japan to live with his mother. There she successfully went to college and is now studying in him, also she herself provides himself laboring waitress at the pub. In addition, she lead an active life - visits the gym doing fitness in him and goes for a walk with friends in the city. But not as strange, that you are lucky enough to become a boyfriend of this fun sexy blonde, and though she at the moment not give to fuck, you can still at your meetings have a fun, touching her big elastic breast, buttocks and caressing her vibrator.

In Game:
- 8 scenes for the game at 2 scenes in each establishment: college, beerhall, a gym, as well as to one scene in the street and in the girl's bedroom.
- 4 attire: student form, the form waitress, sportswear, light clothing for walking.
- Background itself varies depending on the part of the day: morning (from 5:00 to 9:00 am), the day (9:00 to 17:00), evening (17:00 to 20:00), night (with 20 : 00 to 5:00).
- There is an opportunity use Zoom.

Help:
- In the game you need to bring the girl to orgasm by touching her in places piquant, undressing and fondling vibrator.
- In order to caress the girl or take off the thing, you need to press your finger on the part of the body, wherein the hand appears, then press and hold your finger move up or down, that undressing and move up and down that touch.
- In almost every scene, except the scene on the street, to the left there is the column of the excitation girls, which is divided into 3 levels, with the achievement of each player are available certain features. For example, at level 1 excitation you have is available only to undress, drawing apart the legs and touch, upon reaching level 2 you have the opportunity make clothing transparent, when reaching 3 levels is possible to use a vibrator and do fisting.
- When you reach the second level excitation a button with making transparent clothes are in a the drop-down list, which is located at the top right side of the game screen.
- In the scene on the street, you can raise the wind girl skirt by pressing the button at the base of the column, and to undress her (drop-down list with buttons undressing becomes available after one use uplift her skirt a button wind).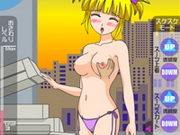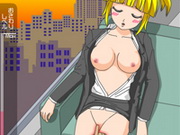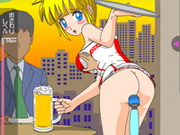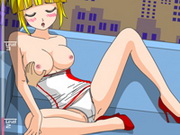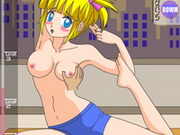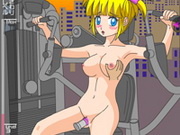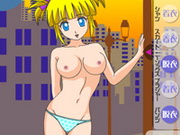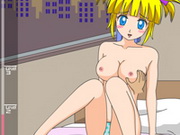 Additional Information
OS Required: Android2.2+
Other: Adobe AIR required (to download)
Developer: fuel-brain
Release date: 07.09.2012
Genre: Simulation, Erotic, Anime, Touch, Strip, Asleep, Big Breasts, Masturbation, Fisting, Hentai, Flash
Languages:

Japanese

Contact us: