Ariel Hugetits films BlackJack
| | |
| --- | --- |
| | Size:8.67MB |
Description
Hot nineteen babe with big tits Ariel Alexandra Hugetits loves to do all sorts of perversion on the camera as this is her very excites. Wherever Ariel nor was and wherever I went, it always takes a camera with him, because he loves to shoot short videos in which shows in various sexual poses his bare big breasts, ass and pussy and then put them online on your blog, to make happy huge amount jerked off around the world. She even dreams of make a film for adults with her in the lead role, but he can not decide on this. Ariel recent saw on the internet blackjack game and it interested her greatly. Play it online it is not want, because it would then have unable to carry on filming, so she had to find an opponent among their friends. The only one who agreed to her was to play her boyfriend, Jake, and then only on one condition, that she would take off her one thing at a loss, and when it will be completely naked, it will be gratify his cock her big boobs all day. The desire to play was so strong that Ariel accepted his proposal, and now you must make every effort help Jake to win.

How to play:
In the game you have to dial more points than the Ariel and at the same time that their sum does not exceed 21, because if that happens you will immediately lose. In order to start the game, click on the deal button to deal the cards. Then, if the amount of points you are satisfied, click on the stand button, if not, for take another card, click on the button hit, and when will type your preferred sum of press stand button to stop and giving Ariel take a her cards. After that, the one who has the most points will be the winner. If this is you, then you will be shown as a reward a new erotic picture with Ariel, but if she wins, you will lose one award. To win the game and watching the final video, you need to win 6 times in a row.

Help:
- Cards 2 to 10 are equal to their face value, but the Jack, Queen and King is 10 points, an Ace can count as either 1 or 11 points.
- To view the girl with multiple angles, press the button, Front, Left, Right, Back, and the Extra - located in the upper right corner of the game screen, See button can help you in this, making a transparent cards.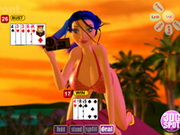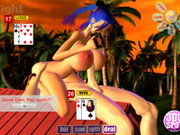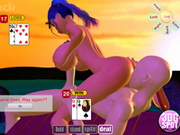 Additional Information
OS Required: Android 4.1+
Other: Adobe AIR required (to download)
Developer: 3DGSpot
Genre: Table, Cards, Gaming, Blackjack, Strip, Erotic, Big Breasts, Big Dick, Paizuri, Cunnilingus, Flash
Languages:

English

Contact us: